Xerox Colour 1000 Printer Offers Lifelike Imagery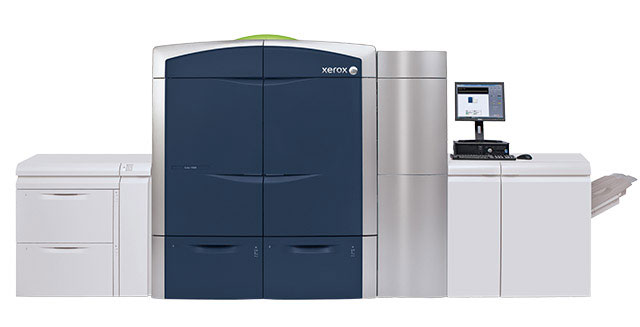 DMC has installed the latest Xerox Color Press 1000 digital laser printing equipment on site to compliment our two Xerox Nuvera 144 black and white machines.
We are able to reproduce incredible lifelike color on single cut sheet up to SRA3 (oversize A3 STOCK) max 350gsm.
This equipment delivers outstanding results for postcards, letters and leaflets all personalised at the same time if required. (Also laying out and printing 4,6 or 8 up on a sheet saves on paper and print costs. DMC can trim and guillotine to size ready to mail.)
We can access any stock type you require.
Feel free to drop in and see this machine (and any of our equipment and facilities) in action.
The Colour 1000 Press doesn't use or generate alcohols, chlorinated solvents, acids or flammable materials. Emissions such as ozone, dust and volatile organic compounds are strictly controlled and well below regulatory levels.
Dry inks used in the press are non toxic and have closed containers with a transfer efficiency rate of over 85%, meaning less dry ink waste is generated.
Prints produced on the Colour 1000 Press offers good deinkability and are easily recycled.
Components within the Colour 1000 Press and its consumables have been designed to be recycled or remanufactured in line with Fuji Xerox Australia's goal of zero landfill policy.
The Colour 1000 Press has been engineered with improved energy efficiency in mind, being the first press utilising EA Dry Ink and features an innovating cooling unit module.
Direct Mail Corporation is a full service mail house and 3PL service. To learn more about our industry-leading technology,please get in touch.